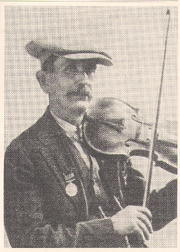 Uncle Bunt Stephens was a world Champion Fiddler who won many fiddle contests. He made some appearances on The Grand Ole Opry and recorded several sides for Columbia in the 1920's
Biography
Edit
John L. "Uncle Bunt" Stephens was born in 1879 in Bedford, TN. He was orphaned at an early age and raised in Flatcreek. He was a construction worker for most of his life. In 1926 he decided to enter a fiddle contest that was being sponsored Henry Ford (he was a fan of Old-Time Music). He won every level of the competition he got to the finals in Detroit as a representative of the south. The judges were most impressed with "Cacklin' Hen" and "Sail Away Lady" He won first prize which included $1,000 a new Lincoln car, and a new set of clothes. Stephens said that he'd rather have the money and no car so he could buy a Model T instead. He died in 1951.
Albums Featured
Edit
Original Discography
Edit
Related Articles
Edit
Ad blocker interference detected!
Wikia is a free-to-use site that makes money from advertising. We have a modified experience for viewers using ad blockers

Wikia is not accessible if you've made further modifications. Remove the custom ad blocker rule(s) and the page will load as expected.