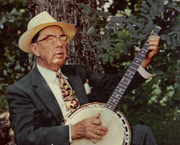 Bascom Lamar 'The Minstrel Of The Appalachians' Lunsford was a Banjo player, Folklorist, politician, Fiddler, lawyer, and composer.
Biography
Edit
He was born in 1882 in South Turkey Creek near Leicester, North Carolina. Throughout his life he traveled around the Appalachian Mountains learning folk songs. His first recordings were done c. 1922-1925 on Wax Cylinders. He started the Mountain Dance And Folk Song Festival in 1928. He recorded 350 songs for the Library Of Congress in 1949. He has recorded more than 300 songs for other collectors. He died in 1973 at the age of 91
Albums Featured
Edit
Original Discography
Edit
Related Articles
Edit
Ad blocker interference detected!
Wikia is a free-to-use site that makes money from advertising. We have a modified experience for viewers using ad blockers

Wikia is not accessible if you've made further modifications. Remove the custom ad blocker rule(s) and the page will load as expected.