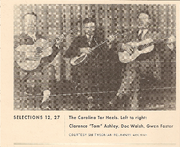 The Carolina Tar Heels were a String Band that started in 1926.
Biography
Edit
The original members were: Doc Walsh and Gwen Foster. Garley Foster replaced Gwen in 1928, and Clarence Ashley played with them during 1928-1929. They stopped recording in 1932. Their Second Career started in 1961, and they released an album for Folk Legacy in 1964 with Walsh's son Drake Walsh.
Albums Featured
Edit
Original Discography
Edit
Related Articles
Edit
Ad blocker interference detected!
Wikia is a free-to-use site that makes money from advertising. We have a modified experience for viewers using ad blockers

Wikia is not accessible if you've made further modifications. Remove the custom ad blocker rule(s) and the page will load as expected.