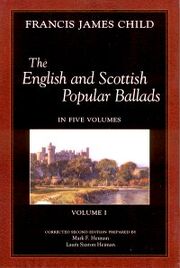 English And Scottish Popular Ballads was a a collection of 305 common Ballads and their variants in 5 volumes compiled and edited by Francis James Child. These ballads are often referred to as 'Child Ballads'. It was the most comprehensive collection of ballads in the English language.
How The Book Was Organized
Edit
Each ballad variant was given a number between 1 and 305, the number was decided by their story, all the ones which told a similar story were grouped together by number. Though all the 305 common ballads featured were of English or Celtic origin, collected from broadsides and various other resources; he also cross-referenced with similar ballads from other European traditions, as well as the variations found in the American tradition. The ballads ranged in antiquity from c. 1300-1790.
Related Articles
Edit
External Links
Edit