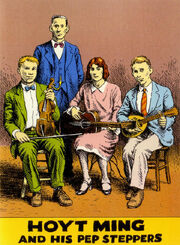 The Pep Steppers were a Stringband famous for their rhythmic stomping done by Rozelle Ming. It was led by Floyd Ming (also known as Hoyt Ming). The other member was: Troy Ming. Their most famous song was Indian War Whoop.
Biography
Edit
The group was from Tupelo, MS. They auditioned for Victor producer Ralph Peer at a local drugstore and later recorded four songs with him. In 1957 Floyd gave up playing until encouragement from folk enthusiasts led him to re-form the Pep Steppers in c. 1973. After this they had a brief Second Career and played in The National Folk Festival and The Smithsonian Festival Of American Folklife. The also appeared in the film Ode To Billie Joe.
Albums Featured
Edit
Original Discography
Edit
Related Articles
Edit
Ad blocker interference detected!
Wikia is a free-to-use site that makes money from advertising. We have a modified experience for viewers using ad blockers

Wikia is not accessible if you've made further modifications. Remove the custom ad blocker rule(s) and the page will load as expected.