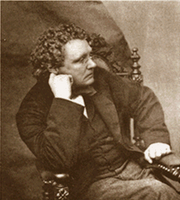 Francis James Child was a renown American Folklorist. He is most famous for writing English And Scottish Popular Ballads. The most highly regarded text on the subject. The ballads he collected are now often referred to as Child Ballads
Biography
Edit
Child was born on February 1, 1825 in Boston, Massachusetts. He went to Boston Latin School and graduated from Harvard in 1846. After this he did much work in the field of English poetry, particularly that of Spenser and Chaucer. After his work in this field, began to work English And Scottish Popular Ballads which was to be his life's work. He died on September 11, 1896.
Related Articles
Edit
Ad blocker interference detected!
Wikia is a free-to-use site that makes money from advertising. We have a modified experience for viewers using ad blockers

Wikia is not accessible if you've made further modifications. Remove the custom ad blocker rule(s) and the page will load as expected.