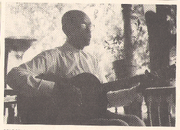 Furry Lewis is one of the most well-known Bluesmen of his generation. He's most famous for his Slide Guitar style. He often played with Jim Jackson, Will Shade, and Gus Cannon.
Biography
Edit
Walter 'Furry' Lewis was born in 1893 in Memphis, Tennessee. In 1917 he lost a leg in a railroad accident. After this, he started playing in Medicine Shows and on the streets. In the 1920s he recorded 20 songs for Victor and Vocalion. After the 1920s he was a city employee until he retired. His Second Career started in 1959 when he was found by scouts from Folkways Records. In 1975 he appeared in the movie W.W. And The Dixie Dance Kings. He died in 1981.
Albums Featured
Edit
Original Discography
Edit
Related Articles
Edit
External Links
Edit
Ad blocker interference detected!
Wikia is a free-to-use site that makes money from advertising. We have a modified experience for viewers using ad blockers

Wikia is not accessible if you've made further modifications. Remove the custom ad blocker rule(s) and the page will load as expected.