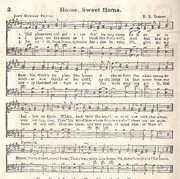 General Information
Edit
Performer: Breaux Fréres
Instrumentation: Violin-Ophy Breau, Accordion-Amadée Breaux, Guitar-Clifford Breaux
Date of recording: 1934
Record label: Vocalion
Serial #:02961B (8A1173)

'Mid pleasures, palaces we roam. Be it humble, no place like home. Charm from sky hallow us there. Which through world never met elsewhere. Home, sweet home. Exile from home, splendor dazzle in vain. Give lowly thatched cottage again. Birds sing gaily, come at call. Give them, peace of mind. Gaze on moon as tread drear wild. Mother think of child. As look at moon from own cottage door. Woodbine, fragrance cheer no more. Sweet 'tis sit 'neath father's smile. Caress of mother soothe and beguile. Let other delight 'mid new pleasure roam. But give pleasure of home. To thee return, overburdened with care. Heart's dearest solace smile on me there. No more from cottage shall roam.
Information On This Song
Edit
This song has become a standard in many countries, and is known the world over. It was originally written as a poem by John Howard Payne, and H. R. Bishop later wrote the music for it. The Breaux Fréres version was translated into Cajun French and the tune was put in Waltz time.
Albums Featuring This Song
Edit
External Links
Edit