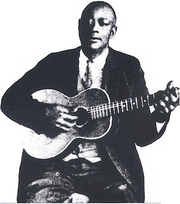 Jim Jackson was a Blues Guitarist and Songster. He performed in several Medicine Shows and played with Gus Cannon, Will Shade, Furry Lewis, Silas Green, The Rabbit Foot Minstrels, Speckled Red, and The Red Rose Minstrels.
Biography
Edit
Jim Jackson was born in c. 1884-1890 (his birth year is disputed) in Hernando, MS. He spent most of his life (starting c. 1905) as a traveling entertainer. He usually played around Memphis especially Beale Street. Pianist Speckled Red described him as "A big fat feller, weighed about 235 lbs. [A] tall, stately feller too, and he danced, sang, played git-tar, [and] cracked jokes" (Smith 1992). He recorded about 50 songs for Victor and Vocalion from 1927-1930. He died in 1937.
Albums Featured
Edit
Original Discography
Edit
Related Articles
Edit
External Links
Edit
Ad blocker interference detected!
Wikia is a free-to-use site that makes money from advertising. We have a modified experience for viewers using ad blockers

Wikia is not accessible if you've made further modifications. Remove the custom ad blocker rule(s) and the page will load as expected.