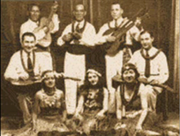 Nelstone's Hawaiians was a group of two or more performers (picture suggests more), to the best of our knowledge it was made of two Steel Guitar players: Nelson and Touchstone, their first names are unknown. They were from Alabama and the first performers in the area to use this instrument. They recorded at least 7 sides for Victor.
Albums Featured
Edit
Original Discography
Edit
Related Articles
Edit
Ad blocker interference detected!
Wikia is a free-to-use site that makes money from advertising. We have a modified experience for viewers using ad blockers

Wikia is not accessible if you've made further modifications. Remove the custom ad blocker rule(s) and the page will load as expected.