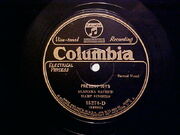 General Information
Edit
Performer: Alabama Sacred Harp Singers
Instrumentation: Organ-unknown
Date of recording: 1927
Record label: Okeh
Serial #:15274D (W146092)

We thank the Lord of heav'n and earth,
Who hath preserved us from our birth.

Chorus:

For present joys, for blessings past,
And for the hope of heav'n at last.

How shall we half our task fulfill?
We thank Thee for Thy mind and will.

(Chorus)

Redeemed us oft from death and dread,
And with Thy gifts our table spread,

(Chorus)

Information On This Song
Edit
This song is hymn # 318 in The Sacred Harp. The tune was written in 1908 by A.M. Cagle and the words were written by Joseph Cottle at an unknown date.
Albums Featuring This Song
Edit
Related Articles
Edit
External Links
Edit
Ad blocker interference detected!
Wikia is a free-to-use site that makes money from advertising. We have a modified experience for viewers using ad blockers

Wikia is not accessible if you've made further modifications. Remove the custom ad blocker rule(s) and the page will load as expected.