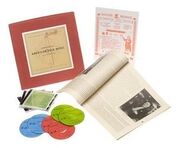 The Anthology Of American Folk Music was a compilation of 84 folk songs from 78s released 1926-1932. Originally on 3 volumes on 6 lps, later re-released in 1997 on 6 CDs. It was edited, compiled, and annotated by Harry Smith, and released by Folkways Records on 1952. This album is considered by many to be one of the most important albums of the 20th century because it started a revival of interest in American Folk Music.
Harry Smith's purpose for creating The Anthology Of American Folk Music was to see if America could be changed through music. This did indeed happen, after the album was released, it intrigued many young American musicians and inspired them to make their own folk music. One of these musicians was Bob Dylan. It also caused a mass-rediscovery of the performers in this compilation that were still alive at the time.
Vol. I, "Ballads"
Edit
This was first volume of The Anthology Of American Folk Music. The title of Vol. I was "Ballads", meaning that the songs in this volume was were songs that told stories, usually tragic ones. The Ballads were organized in chronological order by when the ballad originated. One of the possible reasons why this volume was arranged this way was to give a brief social history of the south from c. 1776-1929, each song illustrating roughly a different period. Most of the songs before #6 where renditions of ballads referenced in Francis James Child's English And Scottish Popular Ballads. It contains songs 1-27.
Vol. II, "Social Music"
Edit
This was the second volume of The Anthology Of American Folk Music. The title of Vol. II was "Social Music", meaning that the songs in this volume were songs that would be played at social gatherings. Disc A featured Dance Music, and Disc B featured Religious Music. It contains songs 28-56.
Vol. III, "Songs"
Edit
This was the third volume of The Anthology Of American Folk Music. The title of Vol. III was "Songs". Meaning that the songs on this volume were miscellaneous songs that had no story or social purpose. It contains songs 57-82.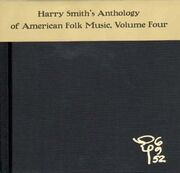 After the release of the first three volumes, Harry Smith had plans for a fourth volume, he even made some master tapes. But it was never released during his lifetime. This was because Marian Distler, one of the co-founders of Folkways Records insisted that he put a song on it that had to do with re-electing Franklin Roosevelt, he wouldn't do it because he didn't think it was a very good song. So they never released it. The notebooks in which he wrote the annotations for the songs in Vol. IV were lost as well. But the tapes changed hands every now and then, until it landed in the hands of John Fahey who finally released it in 2000 on his own label, Revenant Records. This volume didn't have a specific subject, but they were all supposed to be what Harry Smith considered 'good performances'. All the songs on this volume were from 1928-1940, but the majority were from 1930-1940, even though this was out of the range of the first three volumes, they were all authentic folk songs. This suggests that this volume was made to show the few performers that continued to exhibit the folk tradition after and during the depression. It contained 28 songs on 2 CDs.
Vols. V & VI
Edit
In the foreword in the original booklet, Harry Smith says: "Volumes 4, 5, and 6 of this series will be devoted to examples of rhythm changes between 1890 and 1950" (1). Unfortunately, Harry Smith gave away his entire record collection before he even started to work on Vols. 5 & 6, and volume 4 ended up not having the purpose he said it would have in the foreword when it was posthumously released in 2000.
Related Articles
Edit
External Links
Edit
Ad blocker interference detected!
Wikia is a free-to-use site that makes money from advertising. We have a modified experience for viewers using ad blockers

Wikia is not accessible if you've made further modifications. Remove the custom ad blocker rule(s) and the page will load as expected.