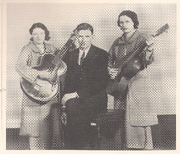 The Carter Family are one of the most famous names in pre-war folk and Country music. They have been active in some form or another for more than 70 years. This article focuses on the original Carter Family group that was together from c. 1927~1940.
Biography
Edit
The original Carter Family was A.P. Carter, his wife Sara Carter, and her sister Maybelle Carter. A.P. wrote, collected, arranged the songs and played guitar, Sara played Guitar, and Maybelle played either the Autoharp or the Guitar. They were from Maces Spring, VA. They got discovered August, 1927 by a scout from Victor named Ralph Peer when they came to audition in Bristol, Tennessee. In 1938 they started broadcasting on Radio stations XERA, XEG, and XENT on the Texas\Mexico border. These stations were out of U.S. jurisdiction, so there weren't any restrictions on the signal strength, these stations could be heard throughout the south. By c. 1940, A.P. and Sara had had a divorce, and the original group stopped performing.
Albums Featured
Edit
Note: Over the years, many Carter Family compilations have been released, because of this, this may not be a complete list.
Original Discography
Edit
Note: The Carter Family recorded literally hundreds of 78s. Because of this, the list may not be complete.
Related Articles
Edit