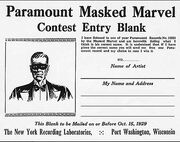 The Masked Marvel was an Alias used by Blues singer Charley Patton. It was used as an advertising ploy by Paramount records, they had one record that had two songs with "The Masked Marvel" as the performer name, whoever could guess the performer's real name correctly got 1 free Paramount record of their choice.
Albums Featured
Edit
(for discographies please see such for the article on Charley Patton.)
Ad blocker interference detected!
Wikia is a free-to-use site that makes money from advertising. We have a modified experience for viewers using ad blockers

Wikia is not accessible if you've made further modifications. Remove the custom ad blocker rule(s) and the page will load as expected.