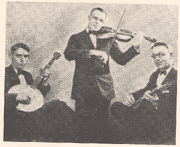 The North Carolina Ramblers were one of the most popular Stringbands. It was lead by renown Banjo player Charlie Poole. The other members were: Posey Rorer, and Roy Harvey. They started c. 1920, and broke up when Poole died.
Albums Featured
Edit
Original Discography
Edit
Related Articles
Edit
Ad blocker interference detected!
Wikia is a free-to-use site that makes money from advertising. We have a modified experience for viewers using ad blockers

Wikia is not accessible if you've made further modifications. Remove the custom ad blocker rule(s) and the page will load as expected.