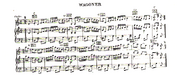 General Information
Edit
Performer: Jilson Setters
Instrumentation: Violin-Jilson Setters, Guitar-unknown
Date of recording: 1928
Record label: Victor
Serial #:21353A (42485)

Information On This Song
Edit
This song was common pre-Bluegrass fiddle repertoire. Setters' version is a good of example of Anglo American Danc Music as it sounded during the advent of the guitar which was popularized in America in c. 1900 because of the Spanish-American War.
Albums Featuring This Song
Edit
Related Articles
Edit
External Links
Edit
Ad blocker interference detected!
Wikia is a free-to-use site that makes money from advertising. We have a modified experience for viewers using ad blockers

Wikia is not accessible if you've made further modifications. Remove the custom ad blocker rule(s) and the page will load as expected.