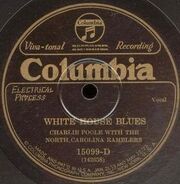 General Information
Edit
Performer: Charlie Poole and The North Carolina Ramblers
Instrumentation: Banjo-Charlie Poole, Fiddle-Posey Rorer, Guitar-Roy Harvey
Date of recording: 1926
Record label: Columbia
Serial #: 15099D (W142658)

(As summarized by Harry Smith, The Anthology Of American Folk Music) "McKINLEY SWEARS, MOURNS, DIES. ROOSEVELT GETS WHITE HOUSE AND SILVER CUP" (5).
Information On This Song
Edit
This Ballad tells the story of the assassination of president William McKinley on Sept. 6, 1901.
Variations
Edit
Poole's rendition is an amalgamation of this ballad and Cannonball Blues. The line "Drinking out of a silver cup" is also found in some variations of Delia
Albums Featuring This Song
Edit
External Links
Edit
Ad blocker interference detected!
Wikia is a free-to-use site that makes money from advertising. We have a modified experience for viewers using ad blockers

Wikia is not accessible if you've made further modifications. Remove the custom ad blocker rule(s) and the page will load as expected.